We glorify the Nezhin cucumber!
On September, 16 the festival "His majesty, Nezhin cucumber" passed within the framework of celebration of Day of town Nezhin. For towns people and guests of town were organized the numerous exhibitions of the hand-made articles and pictures, performances of children's groups, competitions, tastings, masterclasses in a central park.
Participants of the festival surprised spectators with unique cucumbers recipes and dishes, demonstrated their own pickles and confirmed that the Nezhin earth is famous for masters of the original cucumber craft.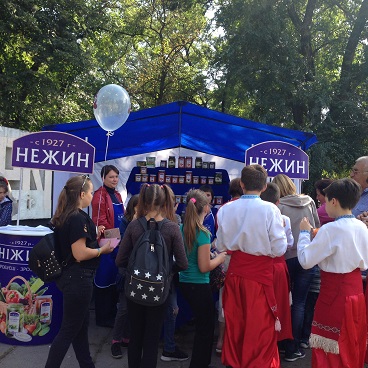 Of course representatives of the Nezhin cannery couldn't ignore participation in such an event because they are the heir to the best traditions of cucumber craft. A tasting of various canned vegetables of TM "Nezhin", pickles and salads of ТМ "Greenville" was organized at the celebration. The visitors of holiday couldn't only taste our products but purchase a wide range at affordable prices also. The most popular products at the festival were canned and pickled cucumbers of TM "Nezhin", as well as sauerkraut and pickled cucumbers of TM "Greenville".
Celebrating the Day of the city in this format has become traditional.
See you next year!